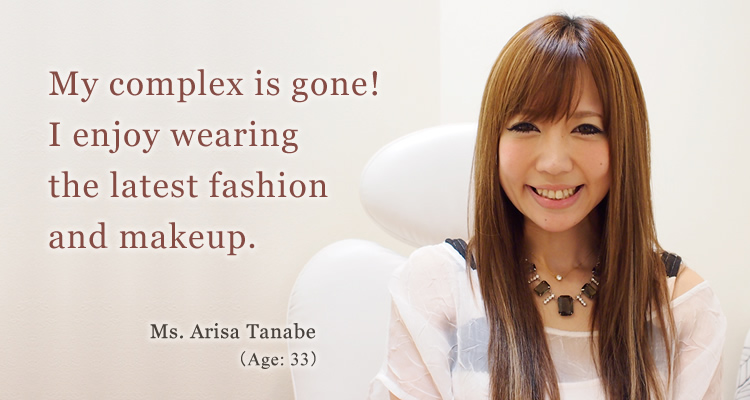 Ms. Arisa Tanabe received an eye bags treatment at Theory Clinic in August, 2012.
She tells us how her lifestyle has changed after the treatment.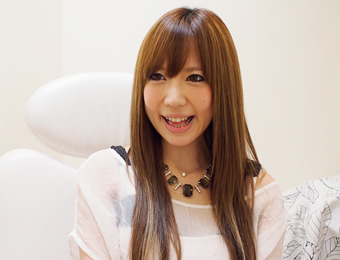 ---It's been about a year since you received treatment. Can you tell how you feel now?

I should have gotten the treatment when I was younger. I've been feeling so good about myself after I got rid of my complex. I am thirty-three now. Some people who don't know my age think I am in my 20s. I am glad that I look younger.

---Has anything changed in your lifestyle?

I used to apply a lot of under-eye concealer to cover my eye bags. I don't need it so much anymore. I feel more aggressive about challenging new fashions.

---When did you start getting conscious about your eye bags?

When I was still in my late teens.I often looked older than my age and it made me feel uncomfortable.

---Did you try anything to make you look better?

I tried many kinds of concealer.I also searched all over the Internet to find ways to cover up eye bags. One day I happened to read a blog of a woman who received eye bags treatment. Before that, I didn't know eye bags could be cured. I did more research on the net and I came to know about Theory Clinic.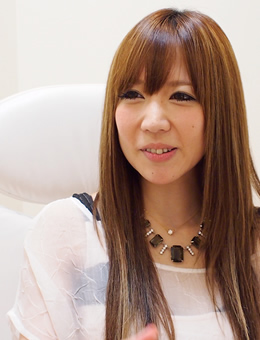 Theory Clinic had a very good reputation on the Net.

---What made you choose Theory Clinic?

I visited many clinics' websites to learn about eye bags treatment. Among them, I was most interested in Theory Clinic's method, degreasing plus lipo transfer. Some clinics only do degreasing to treat eye bags. I looked through many "before and after" pictures of Theory Clinic and other clinics. I thought that Theory Clinics' "degreasing plus lipo transfer" method produced better results.

---What was your impression of Theory Clinic on your first visit?

I had never been to any cosmetic surgery clinic before. At Theory Clinic, I got a warm welcome from the staff. I also had a good first impression of Dr. Tsutsui.

---How did the doctor make a diagnosis?

First, he took pictures of my face. Then, he explained about different types of eye bags and which type of them was mine. Looking at my pictures, he talked me through the process of eye bags removal.

---Were you scared of receiving treatment?

A little. Thinking about how I would feel after treatment made me aggressive.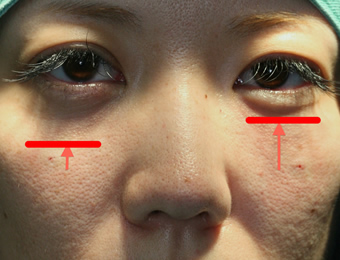 ---Can you tell us about treatment?

Treatment took just about half an hour. The doctor removed some fat from my lower eyelid and injected that fat into the under eye area through my cheek. Since the fat he collected from my lower eyelid was not enough, he collected additional fat from my abdominal area. No scars are left on my stomach, though. When injecting the fat, the doctor made me see my face in a mirror. He injected fat little by little while checking with me. After the treatment was finished, the treated sites were a little red but I could cover them up with glasses. I went home by train as usual.

---How was the downtime?

On the next day, I had a slight swelling on my face. I didn't have pain. I had a little discoloration on my cheek but I could cover it up with makeup. So, downtime did not bother me.

---Did you have any concerns after treatment?

About three months after treatment, I went to see the doctor because I thought that the injected fat may be decreasing. The doctor told me to wait for about a year to see if the fat survived adequately. It's been about a year now, and I am satisfied with the way I look.

---Can you give any advice to people who have a hard time choosing a right clinic?

Do a lot of research. I think everyone is cautious about getting a treatment on face. By getting enough information, you will be able to make a right decision. I am totally satisfied with my decision to go with Theory Clinic.
For appointment, contact us by phone or e-mail.
Feel free to consult the doctor about your problem. (Free first-visit counseling)