I was in my first year of the Medical School of Juntendo University when I realized that cosmetic medicine has the power to make people happy and started thinking about making my career in cosmetic surgery. After graduation, I worked in the department of plastic surgery at Juntendo University Hospital where I learned the basics of plastic surgery while studying cosmetic medicine at the same time. As I began focusing on cosmetic medicine, I came to know of a laser device called Fraxel. I was impressed with Fraxel as it could even remove acne scars. I was excited to witness the striking progress of laser devices and the advance in cosmetic medical technology. Then, I made up my mind to become a cosmetic surgeon. Realizing that I needed more on-site work experience, I left the university hospital to start working at a cosmetic surgery clinic. In 2009, I opened my own clinic - Theory Clinic.
I think our skin is a mirror that reflects our state of mind. When we have problems with our skin, we feel uneasy. On the other hand, we gain emotional confidence when we have beautiful and flawless skin. Though, appearance is not everything in our life; still, there is no doubt that it influences our lives. I once had a female patient who had a severe acne problem. Her skin was so rough that she could not wear makeup. After treatment, she looked very happy and gave me a compliment. This was just one of the many cases that made me feel good about being a cosmetic surgeon who could share his wonderful experiences with each patient. It is very important to have patients understand their own problems and create a treatment plan in association with us. I want Theory Clinic to be a place where patients can feel totally comfortable receiving skin care treatments. To earn trust from all the people who choose Theory Clinic, I make every effort to provide best possible treatments,
based on the three consistent themes;
・ Improve my knowledge and skills
・ Improve clinic atmosphere
・ Improve service quality and patient satisfaction

He graduated from Juntendo University Medical School in March 2003. He worked in the department of plastic surgery at Juntendo University Hospital and Ozaki Clinic.He opened Theory Clinic on December 21, 2009. He specialized in feather lift (thread lift) and eye area skin treatment. His paper on acne scar treatment has been presented to the academy and published.
・Plastic surgery specialist
・Member of Japan Society of Plastic and Reconstructive Surgery
・Member of Japanese Society of Aesthetic Dermatology
・Certifying physician of Thermacool
・Member of Japan Society of Aesthetic Plastic Surgery
・Member of Japan Anti-aging Clinical Medicine Community
・Member of Japanese Society for Regenerative Medicine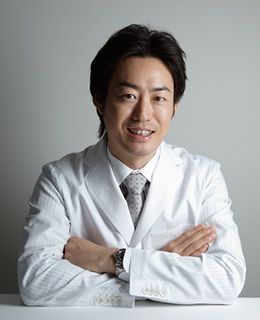 For appointment, contact us by phone or e-mail.
Feel free to consult the doctor about your problem. (Free first-visit counseling)