Degreasing and Lipo Transfer
Scarless treatment by using a high-frequency laser

Our advanced orbital fat pad removal method treats under eye problems without any swelling and downtime. Three major highlights of the treatment are: 1) small affected area 2) short treatment duration and 3) less amount of anesthesia. A high-frequency laser knife not only reduces bleeding and pain but also leaves negligible scar. It takes approximately an hour to remove the fat pad from both the sides. You can see the improvement right after the treatment. The collected fat is processed to maximize fat cell survival and injected into the patient's under-eye area from the cheek by using a special cannula. This method not only removes eye bags but also improves dents, forming natural and smooth curves from the under-eye area to the cheek.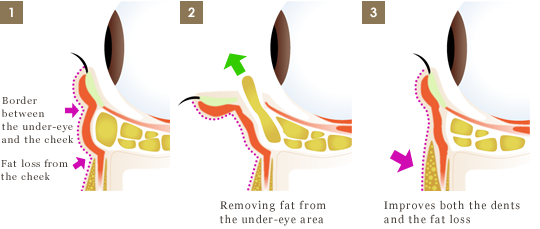 Why do we combine degreasing with lipo transfer?
Degreasing (Transconjunctival Blepharoplasty) is an effective treatment to improve eye bags caused by the orbital fat pad inflation. However, degreasing alone is not enough to create young-looking curves under the eyes or on the cheeks. It removes extra puffiness under the eyes by eliminating some percentage of fat pad but does not flatten the dented area. Also, degreasing by itself does not improve sagging skin, which is another cause of eye bags. That's why, at Theory Clinic, we highly recommend receiving degreasing together with lipo transfer to get the best results. Lipo Transfer is a method to improve dented area by injecting the fat that has been collected by degreasing and processed to maximize fat cell survival, into the patient's under-eye area from the cheek by using a special cannula.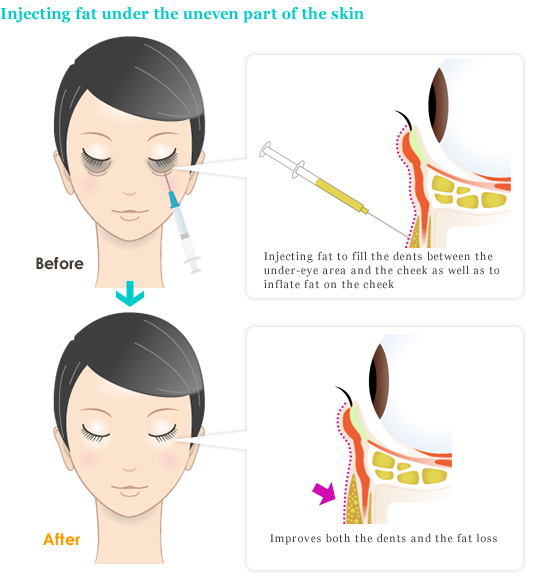 Treated Case
Case1

Case2

Case3

Case4

Case5
Case6

Before treatment
The puffiness under her eyes is caused by the orbital fat pad inflation.
The shadows under the puffiness are called "black eye bags.
Because she has deep orbits, her dents will be emphasized by degreasing. Lipo transfer is needed to reduce the dents.

Right after treatment
Puffiness under the eyes has gone.
Her cheeks look as though they have been lifted up.

Next day
Compared to her face right after the treatment,a little swelling and redness is visible under the eyes.


Glasses can hide the swelling and redness.
About Downtime
About Downtime
Remarks
Pain
You may develop mild pain that may last for 2 to 3 days
You may have uncomfortable feeling for 3 to 5 days
Take medication for pain as prescribed by our clinic
Swelling
You may develop very slight swelling for 2 to 3 days
Take medication for swelling as prescribed by our clinic
Internal Bleeding
Occurs infrequently.
Varies from patient to patient.
Usually disappears within 1 to 2 weeks
Follow-up Visit
Not required
If necessary, doctor will examine free of charge
Face-wash / Make-up /
Contact Lenses
You can wash your face on the same day.
You can wear make-up from the next day;
however, wait for 3 days to wear eye makeup.
Wait for a week before wearing contact lenses.
Do not rub the treated area.
Some mucus may be secreted from your eyes for about a week.
In that case, use eye-drops as prescribed by our clinic.
Bathing / Shower
You can take a shower on the same day and take a bath from the next day.
Since warming you body increases swelling, do not take bath for a long duration of time for at least a week after the treatment.
Degreasing & Lipo Transfer (Under-eye Fat Removal) 324,000JPY

Q&A ? About Degreasing & Lipo Transfer
Why Degreasing alone cannot produce a satisfactory result?

Degreasing is a method that reduces the inflated orbital fat pad under the eyes. Theory Clinic's "Degreasing plus Lipo Transfer" treatment not only reduces the fat pad inflation but also smoothes undesirable bumpy S-shaped curves. Degreasing alone can correct the S-shape curves to a certain degree; however, in most cases, it is difficult to obtain a satisfactory result. A key to success in the S-shaped curve alignment is to remove "the right amount" of the orbital fat pad. Too much removal produces dents and too little removal leaves puffs. The amount of fat that should be removed differs substantially among individuals. It is hard to judge "the right amount" by looks and it is almost impossible to determine it while a patient is lying on an operating table. That is why we, at Theory Clinic, use degreasing and lipo transfer in combination for aligning the S-shaped curves.

For appointment, contact us by phone or e-mail.
Feel free to consult the doctor about your problem. (Free first-visit counseling)